★ ★ ★ ★ – De Standaard
★ ★ ★ ★ "Grande classe" – Dansende Beren
★ ★ ★ ★ "Koo's piano notes and Gyárfás' brush-work falling as raindrops with Alessi's furtive trumpet whispering into the eventual nebulizing electronic haze" – All About Jazz
"Belgium is too small for pianist Alex Koo" – De Tijd
"Alex Koo surpasses himself on Identified Flying Object" – Knack
"We are amazed" – Le Soir
"A gem of a record" – Luminous Dash
"The year just started and we already have a world class record from our very own soil." – Jazz&Mo
"An understated masterpiece" – Trouw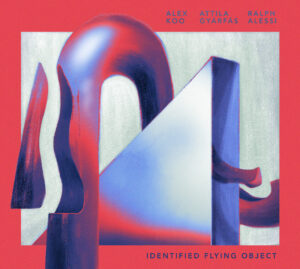 ---
Alex Koo – piano/keys/electronics
Attila Gyárfás – drum set/synth gong
Ralph Alessi – (piccolo) trumpet
EN: Things are moving very fast for the young Belgian-Japanese pianist/composer Alex Koo, who is currently riding high as an emerging top talent at home and abroad. Recently, his CD 'Appleblueseagreen', with American greats Ralph Alessi and Mark Turner, was praised by the world-famous Downbeat Jazz Magazine and chosen in their list of 'Best Albums of 2019', with 4 stars and the words " Stunningly original ". Especially the click with ECM icon Alessi was so special (Downbeat: 'the monster trumpeter who hails from a separate world altogether') that a further collaboration between the two was inevitable.
Identified Flying Object was born as a duo with young stick hero Attila Gyárfas, the drummer par excellence of Budapest's vibrant jazz and improv scene. Now, as a reborn trio with Alessi, they present their new album on W.E.R.F. Records. Their music, a mix of lyrical compositions and improvisations that lie on the borderline between film music, minimalism and soundscaping, can best be described as a trip through space.
---
NL: Het gaat erg snel voor de jonge Belgisch-Japanse pianist/componist Alex Koo, die momenteel hoge toppen scheert als opkomend toptalent in binnen- en buitenland. Onlangs werd zijn CD 'Appleblueseagreen', met Amerikaanse grootheden Ralph Alessi en Mark Turner, bejubeld door het wereldbefaamde Downbeat Jazz Magazine en verkozen in hun lijst van 'Best Albums of 2019', met 4 sterren en de woorden " Stunningly original ". Vooral de klik met ECM-icoon Alessi was zo bijzonder (Downbeat: 'the monster trumpeter who hails from a separate world altogether') dat een verdere samenwerking tussen de twee onvermijdelijk was.
Identified Flying Object werd geboren als duo met jong stokkengeweld Attila Gyárfas, dé drummer bij uitstek van de bruisende jazz- en impro-scène van Boedapest. Nu presenteert het gezelschap als herboren trio met Alessi hun nieuwe album op W.E.R.F. Records. Hun muziek, een mix van lyrische composities en improvisaties die op de grens liggen tussen filmmuziek, minimalisme en soundscaping, kan je het best beschrijven als een trip door de ruimte.
---
FR: Les choses bougent bien vite pour le jeune pianiste/compositeur belgo-japonais Alex Koo, qui est actuellement en train de s'imposer comme un talent émergent de premier plan en Belgique et à un niveau international. Récemment, son CD 'Appleblueseagreen', avec les géants américains Ralph Alessi et Mark Turner, a été salué par le célèbre Downbeat Jazz Magazine et choisi dans leur liste des 'Meilleurs Albums de 2019', avec 4 étoiles et les mots " Stunningly original ". La rencontre avec l'icône de l'ECM, Alessi, a été si particulière (Downbeat : "le trompettiste monstre qui vient d'un monde à part") qu'une nouvelle collaboration entre les deux était inévitable.
Identified Flying Object est né d'un duo avec le jeune batteur Attila Gyárfas, le batteur par excellence de la vibrante scène jazz et improvisation de Budapest. Aujourd'hui, en tant que trio renaissant avec Alessi, ils présentent leur nouvel album "Identified Flying Object" sur W.E.R.F. Records. Leur musique, un mélange de compositions lyriques et d'improvisations qui se situent à la frontière entre la musique de film, le minimalisme et le soundcaping, peut être décrite comme un voyage dans l'espace.
---
---